ARC KSS Academy - Building a sustainable research workforce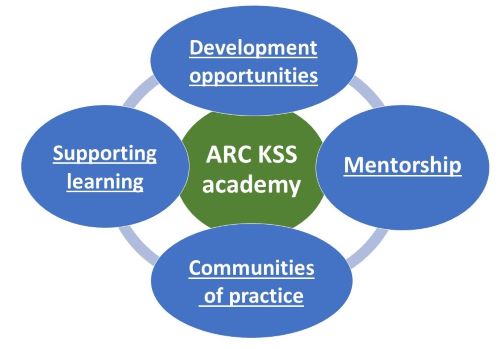 The ARC KSS Academy brings together health and social care organisations across Kent, Surrey and Sussex to build and grow a sustainable research environment and workforce with expertise within practice as well as academic fields driven by shared values. Through networking, sharing of resources and learning and development opportunities we hope to support you in your research career.
A supportive and consistent culture focussing on place-based applied research development across the whole system.
Conducting meaningful research to benefit practice and in the public interest.
Sharing excellent practice – doing things better and achieving better things.
Encouraging socially-driven collaboration through shared interests.
Learning together through inclusive opportunities for development.
You can read more about our plans over the next four years in our pdf ARC KSS Academic Career Development Plan. (457 KB)
Professor Sally Kendall, ARC KSS Academic Career Development Lead is committed to providing the support required through all ARC KSS activities to ensure that different parts of the system work together to transform applied health and social care research in the region. This starts with our research and professional workforce. We want to support research that is important to our local populations and services so we can make real change collaboratively.

Sally is supported by our Organisation and Research CApacity (ORCA) strategy group. This group is made up of research leads and applied researchers across Kent, Surrey and Sussex. ORCA includes Early Career Researchers recognising the need to ensure growth and sustainability. The group will bring their experience, examples of excellence and best practise to support and guide the ARC KSS academy activities.
Join our Academy and access resources to support your research career

Training and development opportunities
We are constantly compiling and adding to a repository of training resources and opportunities to share and support applied researchers in KSS. You can keep up to date with these training and development opportunities by:
Registering to receive our ARC KSS newsletter.
Signing up to our Academy Hub and becoming a member of our online collaboration hub where we share articles, resources, topic digests, events, a full list of funding opportunities and more. You can register to access the ARC KSS academy hub below or log in if you already have an account.