This summer, a team of researchers from the University of Sussex and Brighton and Sussex Medical school ran a competition inviting young people, aged 14-24, to design an official logo for their research project that aims to co-design community-based mental health strategies and intervention with and for young people in the region.
The Co-designing and testing an asset-based task-sharing model for youth mental health services in deprived communities (CATALYST) project - funded by the Applied Research Collaboration Kent, Surrey and Sussex (ARC KSS) - is a three-year project that aims to build a blueprint for youth mental health with input from the young people who use mental health services.
Lily Crosbie, a graphic design student at Brighton, Hove, and Sussex Sixth Form College (BHASVIC) was announced the competition winner after a panel of judges commented on how her design excellently represented partnership working and codesign.
Lily said:
"Knowing that something that I have created will be used in a professional setting is really encouraging to me."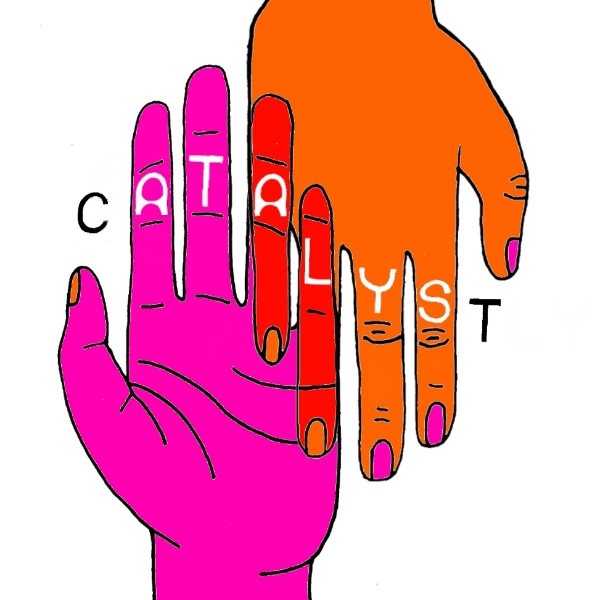 The CATALYST project's new logo, designed by BHASVIC student Lily Crosbie
The CATALYST project aims to improve the quality and coverage of youth mental health services regionally and apply lessons learnt elsewhere.

Over a period of three years, the project team will work across three vulnerable communities with high levels of social and economic deprivation in Kent, Surrey and Sussex and are particularly interested in improving care for young people who are currently not reached or are not being adequately treated, by mental health services. CATALYST seeks to understand how these young people can be involved in the way these services are designed and run.
A core element of the project is partnership working with local young people, their families, and professional stakeholders.
The CATALYST team would like to thank everyone who submitted designs for the competition. All young people who entered the competition have received a certificate of participation from the host Universities and the ARC KSS.
To read more about the CATALYST project, please visit our project website, or follow @CATALYST_ARC on Twitter.