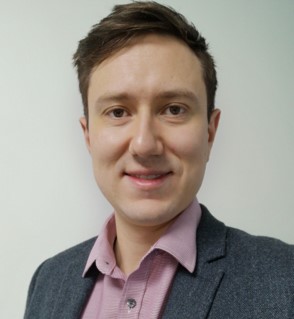 Christopher Horler, Advanced Practitioner Physiotherapist at Sussex Community NHS Foundation Trust, talks about building skills to apply for other research programmes or national fellowships.
Chris is an ARC KSS Individual Development Award (IDA) Springboard Awardee. These awards are aimed at individuals employed by a health or social care organisation who are an ARC KSS member organisation to undertake activities aimed at developing research skills.
How long have you been in your role and what does it involve?

I have been in my current role for four years and specialise in the assessment and treatment of people with musculoskeletal conditions which can affect their muscles, joints or nerves.
What made you apply for an Individual Development Award (IDA) at ARC KSS?
I have been working through the Health Education England (HEE)/ National Institute for Health and Care Research (NIHR) Integrated Clinical and Practitioner Academic (ICA) Programme since 2016 completing an Internship and a Masters in Clinical Research (MRes). Since then, I have been working up an application for the NIHR Doctoral Clinical and Practitioner Academic Fellowship (DCAF). I applied for the Springboard Award to help me complete this application.
How easy did you find the process?
The process of completing the Springboard application was relatively quick and straight forward.
What has this IDA enabled you to do?
The Springboard Award enabled me to take time out of my working hours to complete the DCAF application. This included regular meetings with my academic and clinical mentors, the NIHR research design service and my NHS research department to help design and write a research proposal and a clinical/academic training plan for the fellowship. I also used some of the funding to involve patients and the public in co-designing the research proposal and to complete relevant courses to help prepare for the fellowship. For example, I completed a scoping review course in preparation for conducting a literature review in the first year of the fellowship.
Do you think this has made an impact in your work? Who is at the receiving end of this research?
Overall, the process of developing my DCAF application has helped to further my knowledge and skills in clinical research, which I can share with my peers to support their clinical academic career development. Therefore, it has helped to strengthen my research, leadership and education pillars of advanced practice competency. Furthermore, being immersed in the literature around the clinical topic of my research has helped me to apply learning from previous research, to improve my clinical practice. My research project will aim to improve the care of people receiving musculoskeletal physiotherapy.
What have been the highlights of the project?
Completing the application was a huge achievement and this has been shortlisted to the interview stage. Involving patients and the public in co-designing the project was a great experience and helped to ensure the research had meaning and relevance to the key stakeholders.
What have been the challenges?
Developing the DCAF application was challenging. One of the first challenges was deciding on the research topic and developing a specific research question. I have been working on developing an application since 2018, but my progress accelerated substantially over the six months when I had the dedicated time from the Springboard Award.
What kind of support did you get?
I had support from many people and organisations. My NIHR Applied Research Collaboration (ARC) clinical academic mentor was really helpful and supportive. He had recently been successful in being awarded a DCAF fellowship and he shared his experience of the process to support me with my application. I also secured a place on the NIHR ARC writing retreat which enabled me to connect to other people applying for the DCAF and provided access to advice from a range of research/methodological experts to help strengthen my application.
What are your plans and ambitions for the future?
My ambition is to become a clinical academic leader in the field of musculoskeletal physiotherapy.
What advice would you give to someone looking to take part in research who has never done research before?
I would recommend that they consider applying for the HEE ICA programme internship which offers a great opportunity for academic supervision, training and support to develop their research ideas. I would also suggest that if they have a particular research topic of interest, to reach out and contact the leading clinicians and academics in that field to start building their network and possible research collaborations.
What qualities do you think you need to be a good researcher?
I think communication is a key quality as a researcher for many reasons including: your ability to work with your mentors, patients and the public and research organisations, as well as effectively disseminating your work to enable implementation in practice and to impact on patient care.
Find out more about how you can add research to your career by visiting our website www.arc-kss.nihr.ac.uk.
Find out more the National Institute for Health and Social Care (NIHR) Shape the Future campaign here.