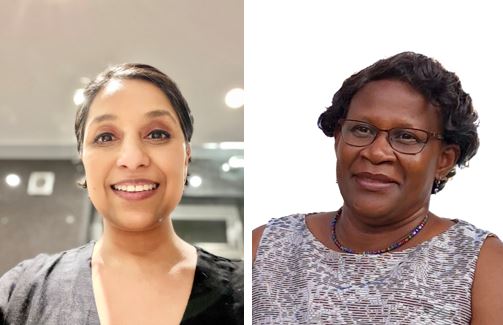 By Dr Anusree Biswas Sasidharan, Director, Bridging Change (left) and Lillian Ndawula, Development Worker (volunteer), Ethnic Minorities in Canterbury (right).
It was a significant moment, with a recognition that there was a negative impact of Covid-19 on many racialised minority communities, low levels of involvement and participation in research and, in turn, shone a light on wider health and social care inequalities impacting the same group.
Over the last three years, we as community organisations and NIHR partners in the south east - have had a lot of robust conversations about health inequalities, experienced by racialised minority ethnic communities and organisations. And, as a partnership, we received some money from the NIHR's Reaching Out funding programme to explore barriers to involvement and participation in research and how we might address them. As a part of Reaching Out programme we had an online consensus workshop; held numerous meetings; and led a series of local outreach events, to explore how health and social care research could be improved.
A key conclusion was that there was an absence of trust between researchers and their organisations on the one hand, and community organisations on the other. There was little or no research where communities were involved in a meaningful way; in particular, a lack of involvement with community development organisations who have ongoing relationships with the local communities. As a community development organisation, we have existing relationships, a better understanding of cultural sensitivities and access to racialised minority communities. It was disappointing to us that when research organisations approached us, we were expected to comply and work as unpaid connectors and often with no consultation with us as local experts within the community.
We wanted to explore these issues further and decided to embark on a series of podcasts with influential and significant individuals, who provide leadership in the field of health and social care research.
Our soon to be released podcast series, Talk In Equality, gave us an opportunity to explore, with funders, regulators, researchers and community development organisations, the role that can be played by health and social care research to help address inequalities and increase representation in participation and involvement.
We asked them about the role they could play to reduce health and social care inequalities. We enquired about increasing meaningful engagement with racialised minoritised groups and their future plans, strategies and visions. We also asked them about the sustainability of the equalities, diversity and inclusion agenda and what changes were required in the research world to improve the quality of research and its reach. We also spoke about the importance of trust between researchers and the racialised minority communities and organisations.
We were really pleased to be able to speak to a range of interesting guests on this podcast series, including:
Patrick Nyikavaranda, Director of Diversity Resource International
Simon Denegri OBE, Executive Director, The Academy of Medical Sciences
Matt Westmore, Chief Executive, Health Research Authority
Jeremy Taylor OBE, Director of Public Voice, National Institute for Health and Care ResearchDr Ibidun Fakoya, Research Fellow at King's College, University of London
The first and the last podcast was hosted by our colleague Dr Gary Hickey, Senior Public Involvement Manager at the University of Southampton who spoke to us (Lillian Ndawula and Dr Anusree Biswas Sasidharan) and Patrick Nyikavaranda.
These podcasts felt like a really helpful first step - it was a good mix of appreciative enquiry, where we tried to focus on what was working well, but we also offered some challenge to our guests who graciously responded.
Our guests talked about the importance of prioritising and having a strategic focus on health inequalities and bringing research to under-served regions and communities with major health needs, so there is an evidence-led approach to researching on what and where it is most needed.
We also heard about the need for building capacity and capability in the preventative agenda and in public health and social care research and better addressing and tackling some of the worst health inequalities. There were some interesting observations about the need to be more transparent in research approaches and share research findings and processes, as well as the need to invest in public involvement, scrutiny and increasing people from diverse backgrounds.
There was a recognition that having an ethnically diverse population involved in research (at all stages, especially at decision-making levels) would be valuable to health and social care research and would bring better and more effective decisions, ultimately resulting in value for money.
Reflecting on the conversations we have had we have identified three key things that the world of research could do to address health inequalities for ethnic minority groups:
1) Research funders should encourage researchers to reach out to and develop relationships with community organisations – these relationships are fundamental to building trust and ensuring our ongoing inclusion in research.
2) Researchers should recognise that communities know what issues are important to them and researchers should seek the involvement of communities right from the beginning of the research – as they start to formulate their proposal.
3) Research funders and researchers should build the research capacity within community organisations to enable us to carry out research within our communities.
This six-part podcast series was funded by the NIHR Applied Research Collaboration Kent, Surrey and Sussex and supported by NIHR Research Design Service South East and Clinical Research Network Kent, Surrey and Sussex. With thanks to Kiran Sasidharan for transcribing the podcasts.
The Talk in Equality Podcast series is available here. New episodes available weekly.